Heptaldehyde heptanal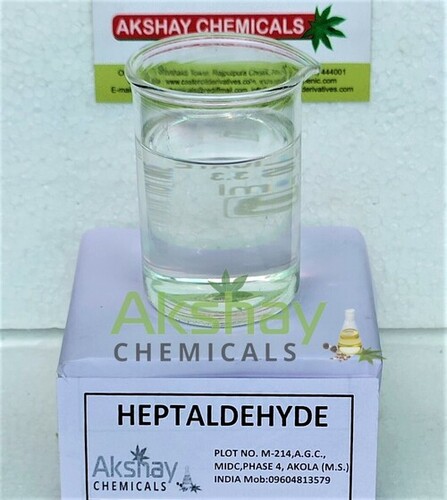 Heptaldehyde heptanal
Price And Quantity
Kilograms/Kilograms

360 INR
Product Specifications
Soluble in 3 volumes of 60 % Alcohol

Liquid
111-71-7

114.18 Grams (g)
Product Description
HEPTALDEHYDE
Product Description
N-HEPTALDEHYDE is a colorless, oily liquid with a penetrating fruity odor. Insoluble in water and less dense than water. Hence floats on water. Flash point near 141oF. Used to make perfumes and pharmaceuticals.
Heptanal is found in allspice. Heptanal is found in essential oils of ylang-ylang, clary sage, California orange, bitter orange and others. Heptanal is a flavouring agent Heptanalor heptanaldehyde is an alkyl aldehyde with a strong fruity odor which is used as an ingredient in cosmetics, perfumes, and flavors. It can be obtained from castor oil by distillation under reduced pressure. Industrially, it is used in the manufacture of 1-heptanol and ethyl heptanoate
This is mainly used in perfumery in the form of its compound, like Jasmine aldehyde (alpha amyl cinnamic aldehyde) and coconut aldehyde. It is also used in the preparation of Heptyl Alcohol, Heptanoic Acid etc Which have subsequent usages in various industries. It is a colorless liquid with a penetrating odour.
Agricultural Use :
Heptaldehyde and its derivatives has got application in fungicide and insecticide formulations. It is very effective against all four wood decay fungi. Heptanal is Very effective in killing a wide range of Gram-negative and Gram-positive bacteria. Effective against Potato Tuber Moth (PTM). It can be used in combination with undecylenic acid and oenanthol bisulfite. It protects the crop from fungal diseases in organic way, the cost effective organic solution with longer periods of protection from fungal diseases. The diseases include leaf spots, Downey Mildew, Powdery Mildew, Blights, and Sheath Rots etc. It has a broad spectrum of antifungal activity for a wide range of plants, vegetables and fruits. The advantages of these compounds are that they are safe and economical.